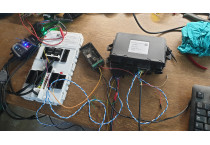 Here I provide some specific services and programming options to assist with using OEM ev components in your conversion projects.
For product support please see the OpenInverter Forum. I do not provide one to one support.
Please note you cannot create an account on this website due to EU data protection regulations. Please select guest checkout.

PLEASE NOTE THE ITEMS FOR SALE ON THIS WEBSITE MUST NOT BE CONSIDERED END USER PRODUCTS. TECHNICAL SKILLS ARE REQUIRED TO GET THEM RUNNING IN YOUR APPLICATION.
IF YOU ARE ALL DOUBTFUL ABOUT YOUR ABILITIES IN THIS THEN PLEASE DO NOT PURCHASE AND VISIT THE OPENINVERTER FORUM FOR FURTHER INFORMATION.

---
Programming your blank new from dealer BMW i3 LIM module as per this video :.
https://vimeo.com/739214871
Price includes worldwide return tracked postage.
NOTE:Suitable for EV Conversion projects only! This is not the process for coding a new LIM to an OEM BMW vehicle!